This is a Sponsored post written by me on behalf of Walgreens for SocialSpark. All opinions are 100% mine.
It never seems to fail that my kiddos get sick on a Friday afternoon or evening. First, no one likes for their kids to be sick over the weekend. Second, the doctor's office is either closed or booked for the day meaning I can't get an appointment until Monday! so what do you do??
Normally we just run to the drugstore and buy some Tylenol. However, lately that hasn't been such a good idea for two reasons. The bottles are small and when you have two sick kids one bottle usually lasts through two illnesses and then you have to buy more. That wouldn't be a problem if they weren't so expensive! AND recently, Tylenol has been making changes to their children's formula and doing recalls so I'm a little wary to buy it right now.
The next logical answer is to check out the store brand. My favorite drugstore to shop at is Walgreens. I normally get my kids prescription medicine filled there so it's just easier to get other medications there. I know the pharmacists and they are always helpful. They even mentioned trying out the Walgreens brand and offering assistance if I had any questions.  I've also noticed a flyer when I pick up their medicine that advertised Walgreens Brand Health & Wellness Products. So I decided to try them out the last time my kids were sick. I went with the Walgreens Bubble Gum Flavor Children's Pain Relief Oral Suspension Liquid. Wow! That's a mouthful.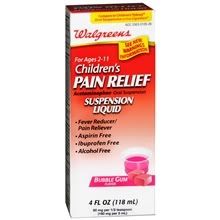 So what did I think? First, it takes me forever to pick out  a medicine. I compared the Walgreen's brand to every other children's medication on the shelf! And it had all the same active ingredients. But there were two big differences. One, the price. Walgreen's brand was a few dollars cheaper! Two, the flavor. I'm so used to seeing grape and cherry for kids medication. It was exciting to see something new! Now for the real test. How did my kids like it? They loved it. i had no problems getting them to take it and it worked just as well as Tylenol. Will we get the Walgreen's brand again? We already have. I think for our kids this is our new preference. It's also great to know that I'm helping out a great cause when I buy Walgreens Brand Health & Wellness Products. a portion of the proceeds goes to Walgreens Way to Well Fund™ which provides free preventive health tests as well as other health and wellness services and education to local communities.
So what do you use with your children? Do you choose all natural meds, prescription only, big name brands, store brands or does it even matter? I would love to hear what other parent's think. And if you would like to try out the Walgreens brand products several fellow bloggers are giving away $50 Walgreens brand gift cards. Go enter some giveaways  and let me know if you win!