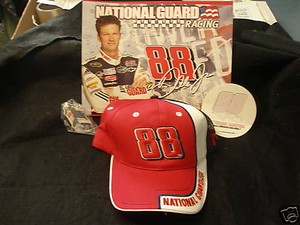 I lived in Charlotte and I actually worked in a wine store that was close to where most of the NASCAR drivers trained and lived. so I've met quite a few drivers...but I never got their autographs...heheh. NASCAR isn't my thing! However, if you love NASCAR you might want to check this out:
Get Free Dale Earnhardt Jr. NASCAR Gear from the National Guard!
Dale Earnhardt Jr. and all Nascar fans will love the chance to get this freebie! Join the Dale Earnhardt Jr. Guard Fan Club to get
Free Dale Earnhardt Jr. NASCAR Gear!
To get your free NASCAR gear:
click link above and fill out form on bottom of page.
They'll send you a
FREE hat, keychain & stickers
and you will be entered into giveaways for more free stuff too!!
Thanks,
Gimmie Freebies